At Global Shipping Containers we offer a ramge of custom made Smoking Shelters
Why choose a smoking shelter ?
Smoking Shelters are now more imperative to own since the smoke free legislation in the Health Act 2006 which came into force in England at 6am on Sunday 1 July 2007 to create smoke-free places and to protect workers and the public from harmful effects of passive or secondary smoke. The ban introduces a statutory smoking ban in "enclosed" and "substantially enclosed" premises.
All our shelters conform to the legislation and in addition to providing a safe & dry smoking area. A benefit of a shelter is you can also prevent people congregating around entrance doors creating a cloud of smoke for visitors to walk through and potentially blocking fire exits. They are made from non-flammable material making them the ideal shelter which have open sides unto 50% apart from the roof. They are manufactured with a full open front, 2 sides that are a minimum of 50% window, and a fully enclosed rear.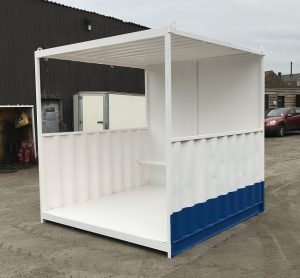 By supplying a shelter you also contain litter from unsightly discarded cigarette ends with our lockable wall mounted ashtray. With a non-slip floor it can even take people stubbing out cigarettes on the floor with the only maintenance being a new coat of anti-slip floor paint every few years.
Ideal for offices, factories, pubs, clubs and more … Made from Anti Vandal material and painted to a colour of your choice we are the ideal choice for all businesses. As space is at a premium for most people the versatility of being able to move our smoking shelters to suit your business growth is a great benefit over the traditional fixed construction.
All our Smoking Shelters are delivered to site and ready to use.
Fully prepared and externally painted to a colour of choice
Wall mounted ashtray
Seating Area
---
 

We can also supply our smoking sheltersin
8'x8' 10'x8' 20'x8' 30'x8' 40'x8' 10'x10' 20'x10' 30'x10' 40'x10'
Fully custom sizes on request.
---
Ideal for Events
Construction Sites
Factories
Office blocks